The Sierra Nevada Batholith Map Mosaic Project is an effort to catalog and compile various USGS maps from the Sierra Nevada region and surrounding areas into one easily accessible location.
Included on this website are various scanned geological maps and their associated georeference files. The full maps have been included for reference, but the cropped images have also been added so that mapping tools can be utilized on them. With the cropped images and their respective data files, a high-quality mosaic can be produced.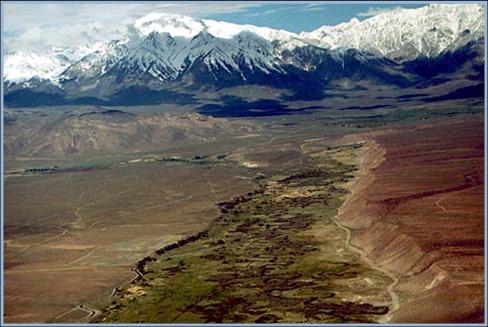 The Chalk Bluffs with Mount Tom in the back ground, a few miles north of Bishop, California.
Photo taken by Allen Glazner.
A major purpose of this project is to create a patchwork of the more detailed quadrangle geological maps so that a much greater detailed scope of this region can be attained. By combining and georeferencing the smaller quadrangle digitized maps, one of the most intricate geological layouts of this area up to this point is produced. This provides a much more in depth glimpse into the geology of this beautiful, but complex, region.
Not only does this project desire to create a larger, more detailed map of this region but it also strives to preserve these maps for future use. Many of these maps have been out of print for many years and as time goes on, the quality and availability of these valuable resources diminish. By digitizing and enhancing the visual quality of the maps and placing them on the Internet, geologists everywhere for years to come will have easy access to this incredibly useful data.
This project was completed by Nolan Caudill, undergraduate at the University of North Carolina at Chapel Hill under the direction of Dr. Allen F. Glazner and Dr. Mike Oskin. For more information on the method and technical information of the project, click here.
This web site was developed with support from National Science Foundation grants EAR-0312691 and EAR-0336070. Map scanning and site hosting equipment supported by the Department of Geological Sciences at the University of North Carolina at Chapel Hill.